Volume XII: La campagne de Russie 1812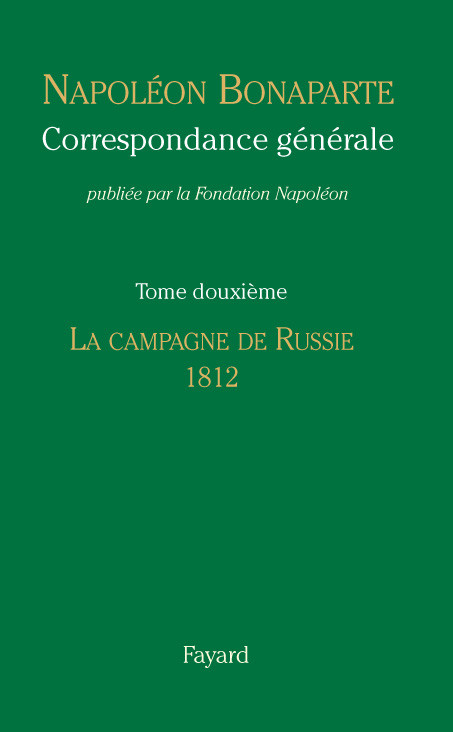 Volume twelve of the General Correspondence of Napoleon Bonaparte covers the single tragic year of 1812. As Napoleon I crossed into Russia territory in June 1812, no-one envisaged anything but success for the Russian campaign. Yet as they went deeper into Russia – with governing the empire becoming harder and harder by the mile – Napoleon and his multinational but ultimately divided army found their campaign bogged down by the Russian tactics and resolve. In December, the once imperious Grande Armée finally returned home, decimated and with its morale in ruins. The defeat, a turning point in European history, sent shockwaves across the continent. Napoleon I would subsequently lose his army and his empire, whilst Alexander I would go on to become the hero of Russia's Patriotic War and, two years later, play a deciding role in the discussions at the Congress of Vienna.
The Fondation Napoléon is most grateful to Patrick de Pauw for his assistance in the completion of this volume.
The Fondation Napoléon is supported in this unprecendented adventure of historic proportions by the Archives de France, the Fondation La Poste and more than one hundred project volunteers.
Summary:
Preface by Marie Pierre Rey, Professor at the Université Paris I, Director of the CRHS
Introduction by Thierry Lentz, Director of the Fondation Napoléon
Correspondence: 2 551 annotated letters
List of letters in private collections: contents unknown
Studies:
— The Grande Armée of 1812, Organisation at the start of the campaign, by F. Houdecek
— Organisation of the Russian army (1810-1812), by V. Bezotosnyi
Annexes:
– Coded correspondence: the letters to Maret in 1812
– Places mentioned in the correspondence and their modern-day equivalents
– Detailed timeline, by I. Delage
– Table of measures and currencies
Maps:
– Russian campaign (23 June – 16 August)
– Russian campaign – advance on Moscow (mid-August – October 1812)
– The Battle of Borodino (7 September 1812)
– The city of Moscow (September 1812)
– Russian campaign – the retreat (October – December 1812)
– Military operations in Spain (January – November 1812)
Thierry Lentz (ed.), assisted by François Houdecek and Irène Delage; preface by Marie-Pierre Rey.
Paris : Éditions Fayard, 2012, 1 530 pages.