Fondation Napoléon talks: new 2022 spring-summer programme and a new name!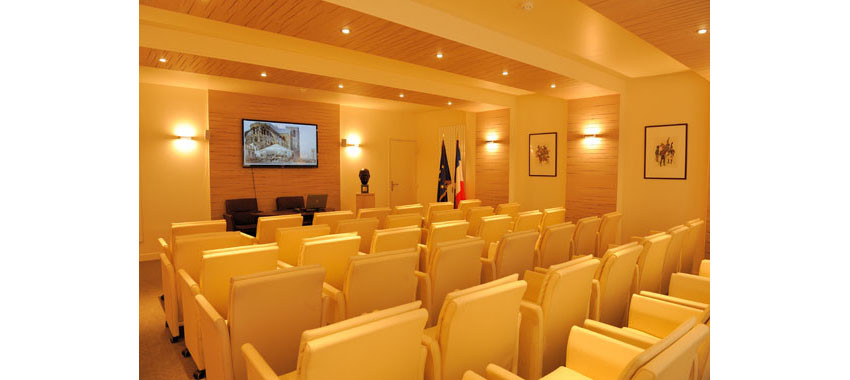 The Salle Gourgaud: conferences, talks and film previews © Fondation Napoléon - Olivier Roques Rogery
Created in the spring of 2013, the Fondation Napoléon's talks programme the "Cercle d'études" has been renamed "Napoleonica® les conférences" in 2022, as part of the development of the Fondation Napoléon's Napoleonica® academic program.

The name may have changed, but the objective is the same: to allow specialists in Napoleonic topics to present their work and reflections to an enthusiastic public, in a friendly atmosphere which encourages an exchange of points of view between historians.
Here is the programme for spring-summer programme from 5 April 5 to 21 June 2022:
"Paris in the time of Napoleon", by Irène Delage and Chantal Prévot;
"Napoleon, the forgotten films", by David Chanteranne;
"Lucien Bonaparte, a Republican Prince", by Cédric Lewandowski, Fondation Napoléon  Jury Prize winner in 2020;
"The war of ideas", by Eugénie Bastié;
"The Paths of Glory: Waging war during the First Empire", by François Houdecek;
"History of the creation of the Opéra Garnier, jewel of the Second Empire", by Régis Rouillier.These lectures will take place in the Espace Gourgaud of the Fondation Napoléon, 7 rue Geoffroy Saint-Hilaire, Paris 5th Arrondissment. Some will be followed by a book signing, in partnership with the Librairie Fontaine Haussmann (bookshops).
► See talk and registration dates, registration details and program details (pdf in French) ◄
Learn more about Napoleonica® les conférences (link in English).
21 March 2022