Jacques Macé awarded the medal of Honorary Administrator of the Fondation Napoléon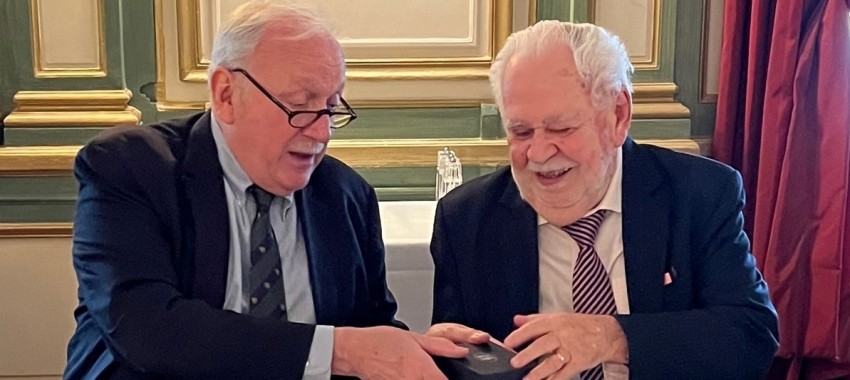 © Fondation Napoléon January 2022
On Wednesday, January 12, 2022, Victor-Andre Masséna, Prince d'Essling, President of the Fondation Napoléon, presented the medal of Honorary Administrator of the Fondation Napoléon to Jacques Macé.
This title was awarded to him by decision of the Board of Directors of the Fondation Napoléon at its meeting of 16 March 2021.
He joined the Board of Directors in December 2011 as a replacement for Prince Murat (2012-2014), then as a member designated by the Souvenir Napoléonien in 2015. As Assistant Treasurer of the Foundation since 2012, his mandate ended in December 2020.
Jacques Macé, born 15 August 1937 in Saint-Quentin (Aisne), is a graduate engineer from the École Centrale de Nantes and the École Nationale Supérieure du Pétrole et des Moteurs (Institut français du Pétrole, Rueil-Malmaison). He pursued his career for 35 years in the aeronautical industry, first as a test engineer, then as a senior manager in logistics and international trade (working with 27 air forces around the world). He is also a representative of GIFAS (Groupement des Industries Françaises de l'Aéronautique et de l'Espace) in several European standardisation and harmonisation commissions.
Alongside this career in industry, he has been a member of the Souvenir Napoléonien since 1997 (he was a member of the Steering Committee and the Bureau for several years) and has been conducting research and historical work for more than 15 years, particularly in the Napoleonic field (and more broadly in the history of the 19th century).
His publications:
. L'honneur retrouvé du général de Montholon, Christian, 2000 ;
. Dictionnaire historique de Sainte-Hélène, Tallandier, 2004 ;
. Les soixante-huit mois de Sainte-Hélène and Les oubliés de Sainte-Hélène, in Sainte-Hélène, île de mémoire, Fayard, 2005 ;
. Le général Gourgaud, Nouveau Monde/ Fondation Napoléon, 2006 ;
. La mort de Napoléon, Perrin, 2009, in collaboration with Thierry Lentz ;
. He is also co-author with Thierry Lentz of the Journal de Sainte-Hélène, by General Gaspard Gourgaud, published in 2019 in the collection "Bibliothèque de Sainte-Hélène" by Perrin.
The Fondation Napoléon thanks him once again for his work with us.
20 January 2021