"Save the drawings and plans made for Napoleon I"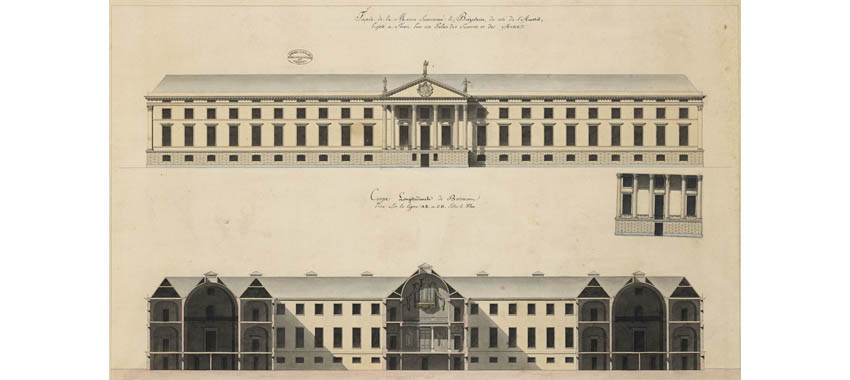 Project for the Palace of Science and Arts (Palais des Sciences et Arts) in Holland, AF/IV/1829 Pièce 34 © AN
The French National Archives and the Fondation Napoléon have joined forces  to launch an appeal to restore and digitise an exceptional collection of historical and artistic documents which have been preserved since 1849 at the National Archives, namely: the drawings, plans and maps of the Imperial State Secretariat (1799-1814).
These visual documents were included in the dossiers put together to assist the first French Emperor in his decision-making as Head of State: plans of towns and buildings, plans for industrial and technical installations, maps delineating territorial boundaries or the extent of exploration missions, inventions made by civil and military engineers, fortification projects, medal and uniform designs.
Several of these items are signed by the greatest artists of the First Empire, such as David (painter of the famous "Sacre de Napoléon") and Fontaine (architect of the Carrousel Arc de Triomphe), and many are annotated in the hand of Napoleon I himself.
A recent inventory of this collection has shown that there are over 1,800 items of which 370 require conservation work. Given the scale and urgency of the task, and the fact that the French National Archives are also responsible for the in-house conservation of its other collections at the same time, it is only by outsourcing to specialised conservation experts that it will be possible to make this invaluable heritage available to the public.
A total of €250,000 is needed. Private individuals as well as companies can participate in the subscription by making a donation, which can be offset by a tax deduction (for tax-payers in France) and other rewards. It goes without saying that every donation is useful!
Click here to see a complete presentation of the appeal.
You can make your donation directly online on our site by clicking here.
By supporting the restoration and digitisation of the drawings and plans made over 200 years ago for Napoleon I, donors will be participating in a great project of general interest, preserving not only a French national heritage, but also making an important piece of our common history available for future generations.
14 September 2017