French Appeal for the Restoration of Napoleon's Iconic Chasseur Colonel's Uniform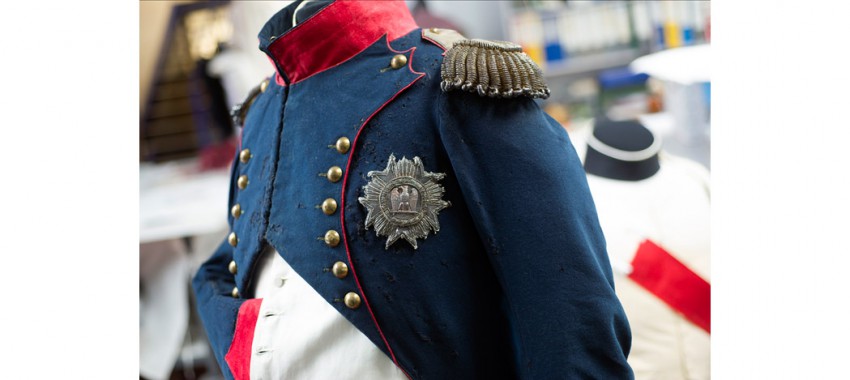 Napoléon's uniform (detail) ©Paris, Musée de l'Armée/Pascal Segrette
Napoleon had three iconic items of clothing, his hat, his great coat, and his 'green' Cavalry Chasseur Colonel's uniform. This latter was what he most frequently wore during the day, and not surprisingly, he is best known for it. Two very famous paintings held today in Washington and Versailles, that is to say, respectively, David's painting of "Napoleon in his cabinet", and Gérard's rendition of "Napoleon at Austerlitz", show the Emperor wearing the ensemble. Two celebrated examples of this uniform survived the epoch. One is still worn by the emperor and lies in the tomb at Les Invalides in Paris. The other was bequeathed by the Emperor to his faithful valet, the Mamluk Ali, who brought the treasured clothing back from St Helena to Sens, his home town in France. Ali left the uniform to the town of Sens in 1855, and the ensemble (together with the hat Napoleon wore at Waterloo) have been part of the town's collection ever since.
Two hundred years have passed since the clothes were made and worn. The material has lost its colour – the poorly fixed yellow dye has faded, meaning that the remaining prominent shade is blue. Accumulated dust must be vacuumed away to prevent further deterioration, earlier less sophisticated restorations have to be corrected, metal elements must be re-affixed, and there are holes. It is true that the garments were restored more than 25 years ago in preparation for an exhibition in New York (US), but the time has come for a complete overhaul and modern restoration. This is why the Fondation Napoléon is approaching its French supporters and readers for help in raising the 20,000€ necessary for the restoration.
This ensemble is on show as part of the exhibition "Napoleon on St Helena: His Fight for his Story" at the Musée de l'Armée in Paris until 24 July 2016.
Full details of the restoration campaign can be found here (in French).
Non-French residents wishing to contribute to this appeal may contact the director of the Fondation Napoléon, Thierry Lentz directly. lentz@napoleon.org
UPDATE > May 2017 > Napoleon's uniform from St Helena magnificently restored