Napoleon and Paris: Dreams of a capital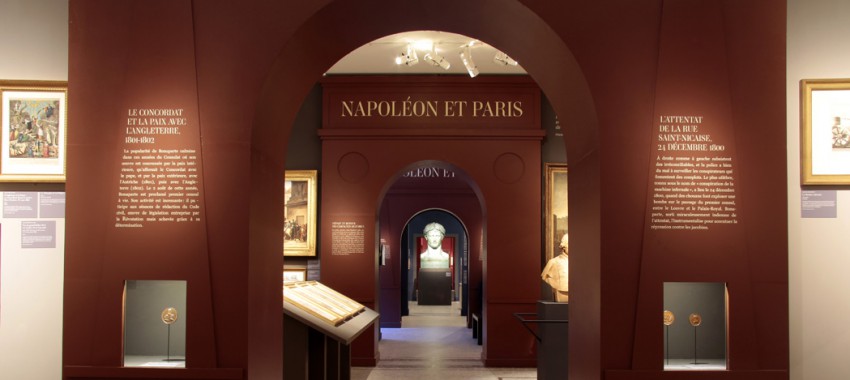 "Napoleon and Paris: Dreams of a capital", Musée Carnavalet – History of Paris, Paris, 8th April – 30th August 2015 ; Exhibition design, Philippe Pumain Architecte © musée Carnavalet - JB Woloch
Napoleon had chosen Paris to be the capital of his Empire, and yet he spent little time there. Paris was the place where his dual identity as the heir of the Enlightenment and the promoter of a new absolutism could be seen in the clearest and most revealing light. The city was the main political stage of the Napoleonic era, and one of the major concerns for the First Consul, and then of the Emperor. The capital welcomed him, from his astonishing rise after the coup d'État of 18 Brumaire to his abdication at the Élysée on the 22nd June 1815. Napoleon's genius in administrative affairs brought him to mould Paris through reforms which restructured the city's life, and many of these changes can still be seen today. Surrounded by his household and his court, the Emperor encouraged festivities in the most elegant Parisian palaces. Still today, you can see the buildings in which the Emperor's strong presence and tastes are still felt.
Writing about Paris in the Memorial of St Helena, Emmanuel-Auguste-Dieudonné Las Cases said that 'the Emperor wanted to make it the capital of the world.' 'Nowhere', he said, 'could be found so much taste or more wit.' 'The Emperor wanted to render Paris the real capital of Europe […] something fabulous, something colossal, unexampled until our days.'
This exhibition at the Musée Carnavelet entitled 'Napoleon and Paris: The Dreams of a Capital', part of the 'Napoleon season', is to last five months. From his time as general, ordering the cannon fire at Saint-Roch in 1795, his coronation in Notre-Dame in 1804, and finally his abdication at the Élysée Palace in 1815, Paris was the backdrop of several important events in Napoleon's life.
Included amongst the very beautiful loans by museums and other cultural institutions is Madame Bérenger's train, worn at the Emperor's coronation (a piece from the Fondation Napoleon's collection). The Fondation's objects are set in dialogue with the objects from the Musée Carnavet's collection, with the aim of illustrating the splendour that was Paris at the beginning of the nineteenth century for the visitor and the glory (and fête) that was the imperial court.
Place: Musée Carnavalet – History of Paris, Paris
Dates: 8th April – 30th August 2015
Curated by: Philippe de Carbonnière, Charlotte Duvette, Florian Meunier, Thierry Sarmant, with the participation of Pierre Branda and Thierry Lentz
Exhibition design: Philippe Pumain Architecte
Catalogue: the catalogue can be consulted at the bibliothèque Martial-Lapeyre at the Fondation Napoléon (Paris).