History Prizes 2004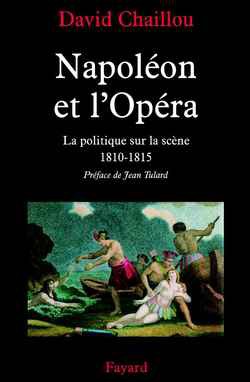 FIRST EMPIRE PRIZE
David CHAILLOU, Napoléon et l'Opéra, Paris, Fayard
Centring around the role of Napoleon in the musical output at the Opera, this book, entitled Napoleon and the Opera, politics on stage, studies the emperor's use of it as a propaganda tool for imperial glory during this period of great popularity for the Opera in Paris.
A discussion of the institution, the Opéra de Paris, is followed by a treatment of the works performed there in the period 1810 to 1815 : the use of historical and mythological themes in which the figure of Napoleon appears to a greater or a lesser extent; the passage of the work from the composer to the librettist to the stage, passing via the Police ministry censor's office. The political role of opera is particularly clear when seen through the magnifying glass of special commissions or 'oeuvres de circonstance': Le Triomphe de Trajan in 1807 celebrates the emperor's return from Iena.
This book is the completion of David Chaillou's doctoral thesis, for which he received a Fondation Napoléon research grant in 1999.
PRIZE FOR A BOOK IN A LANGUAGE OTHER THAN FRENCH
Steven ENGLUND, Napoleon, a political life, Harvard University Press
Distinguished by its use of French rather than English-language sources, this is an academically wolfish book arrayed in sheep's clothing for the general public. Taking his chapter headings from the words of the Marseillaise, Englund emphasises Napoleon's revolutionary heritage and his departures from it, charting France's evolution from a Grande Nation to a Grande Empire. It takes Napoleon on on his own terms and is an even-handed, detailed and serious biographical discussion of Napoleon Bonaparte.
Steven Englund (Ph.D., Princeton University) is the author of The Inquisition in Hollywood (with Larry Ceplair), Man Slaughter: A True Story of Love, Death and Justice in America, and Grace of Monaco.