History Prize 1982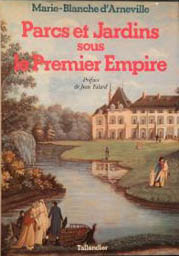 Marie-Blanche d'Arneville, Parcs et jardins sous le Premier Empire, Paris, Tallandier
Offering an exquisite promenade from the beautiful gardens of Malmaison, Raincy, Tuileries and Fontainebleau to country walled gardens, this illustrated book shows how the relationship between man and nature evolved during the First Empire. Under the watchful eye of the Emperor, the
aesthetic designs mapped out at the end of the eighteenth century come to fruition. Hundreds of new plants are introduced into France; parks and gardens left untended by the French Revolution are redrawn in the fashion of the day; floral decorations abound in bedrooms and living rooms.
This rediscovery, domestication and celebration of nature is, of course, linked to the tastes and aspirations of a changing society. A simple, convenient urban life becomes the priority, and architectural ideas finally shed the burden of ancient wisdom. Here, as elsewhere, the Empire is truly innovative.
Marie-Blanche Arneville first took a degree in Chemical and Biological Sciences. She initially undertook laboratory research and has also written many popular science articles. Her studies on the history of scientific discoveries and interest in documentation later led her into historical research, and she combined her two interests with a doctorate on the history of gardens in the nineteenth century. She is a member of the Institut Napoléon.