2021 Année Napoléon > The Mobilier National (French National Furniture Repository)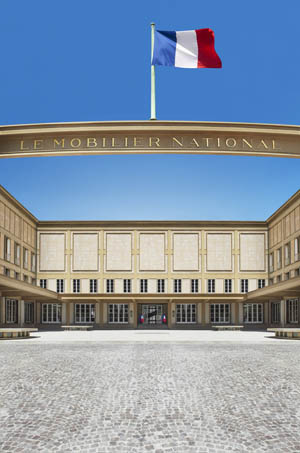 In 2021, the Mobilier National is celebrating the bicentenary of the death of Napoleon I with an exceptional exhibition and a conference.
Updated 1 October 2020
For further information, please consult the institution's website (in French)
Conference
Date, programme and details pending

Exhibition > "Napoleon I's Lost Palaces"
September 2021 – February 2022
Mobilier National
Mobilier National
1, rue Berbier du Mets, 75013 Paris
Telephone: +33 (0)1 44 08 52 71
GENERAL Information
List of partners of "2021 Année Napoléon".
Follow the special Instagram account for "2021 Année Napoléon" events.
Follow the Fondation Napoléon's Facebook page in English.
Subscribe to our free weekly newsletter (French or English).
PrEsentation OF THE Mobilier national
Since the 17th century, the French Mobilier National furniture repository and its manufactories have showcased French craftsmanship in the exquisite French tapistries, carpets and furniture that they created. The institution is descended from the Garde-Robe [wardrobe] of the French Crown and its primary mission is to provide furniture and furnishings for state buildings.
In addition, it oversees the conservation and restoration of its unique worldwide collection, comprising more than 130,000 items of furniture and furnishing.
Seven workshops – cabinet making, chair carpentry, carpet restoration, tapestry restoration, lustre and bronze work, seat upholstery, furniture decoration – ensure the restoration of the most prestigious elements of the collections.
Since 1937, the national manufactories "des Gobelins", "de Beauvais" and "de la Savonnerie", as well as the lace conservation workshops in Alençon and Puy-en-Velay (integrated in 1976) have perpetuated a tradition of excellence and support for contemporary creation in the field of weaving.
Looking to the future, the institution, a partner in many artistic events, has a Research and Creation Workshop – the ARC – created in 1964, on the initiative of André Malraux, to promote contemporary creation and design in France. The ARC is a unique space and an incomparable showcase for French design, which has never ceased to create prototypes of excellence for state commissions in close collaboration with major figures in the design world.
The Mobilier National embodies the prestige of French tradition, the excellence of exceptional craftsmanship, and the vitality of artistic creation and contemporary design.