Bibliothèque M. Lapeyre Library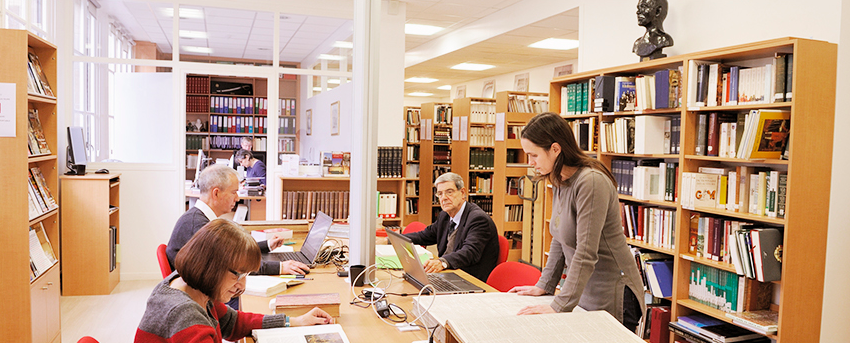 A LIBRARY FOR STUDY AND RESEARCH INTO NAPOLEON I, NAPOLEON III
AND THE HISTORY OF THE TWO FRENCH EMPIRES
The library is open to all, without appointment.
► Covid-19: the "passe sanitaire" ["Health Pass"] as well as the wearing of a mask is required
to have access to the activities taking place in the premises of the Fondation Napoléon..
The library will be closed exceptionally all day Tuesday 14 and Thursday 18 November
Industrialist Martial Lapeyre, a Napoleonic history enthusiast, first had the idea of building up this library which bears his name to be a place of study and discovery for all those amateurs and professionals seeking to learn more about the First and Second French Empires.
It was founded in 1987 on the premises of the Fondation Napoléon, and was opened to the public in 1994.
The library contains more than 7,000 titles, including both old and modern works.
It makes available to readers numerous works from European and American historiography, in French, English, German, Spanish and Italian.
All aspects of the history of the First and Second French Empires are covered: events, politics, military history, economics, art, literature, religious life, technology.
The Martial-Lapeyre library is particularly well endowed with memoirs and accounts by contemporary eyewitnesses.
The on-line catalogue (mostly in French) includes detailed descriptions of the works held in the library, as well as a vast corpus of articles taken from general and specialist historical journals.
Services
Inter-library loan (requests for books from French libraries – consultation at the Fondation Napoléon)
Photocopy
Wifi
Opening hours : (no appointment necessary, no admission criteria apply)
Monday 10am-6pm, Tuesday: 1pm- 6pm, Thursday: 10am-3 pm, Wednesday and Friday: closed. Special times apply during French school holidays and the library is closed for a week between Christmas and new year.
How to get here:
Métro: Ligne 5 (Saint Marcel or Campo-Formio), Line 7 (Les Gobelins) or Bus: Lines 67 ou 91 (Saint Marcel – Jeanne d'Arc) Vélib': station number 5105 (8 rue Geoffroy Saint-Hilaire), or 13006 (5 rue Duméril).
Address: 7 rue Geoffroy Saint-Hilaire, 75005, Paris, France
Tel.: +33 (0)1 56 43 46 07.