The launch of Napoleonica® the journal and a new, improved Napoleonica® la revue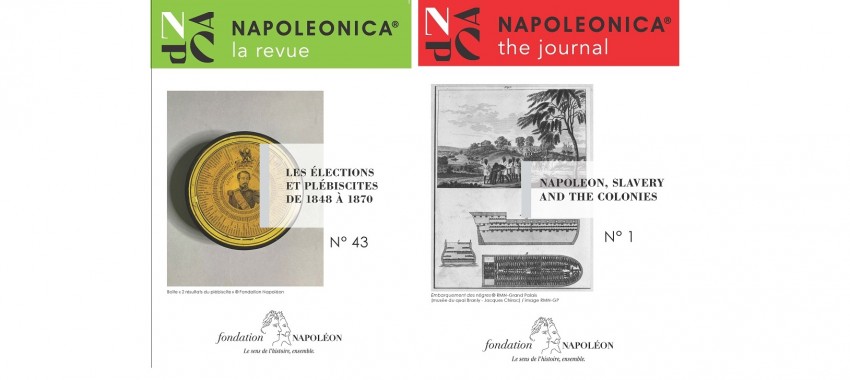 In September 2022 the Fondation Napoléon completely transformed its free online academic publishing service.
Launching of Napoleonica® the journal (in English)
Since the end of September 2022, in addition to a new improved version of Napoleonica® la revue, the Fondation Napoléon has launched a new scholarly journal: Napoleonica ® the journal. A historical journal on the period of the two Empires, the journal is entirely in English, free to consult online, with a committed, close-knit scientific committee, brought together thanks to the international activities of the Fondation Napoléon over the last twenty years. Its members – Peter Hicks, Pierre Branda, Alexander Mikaberidze and Alan Forrest – will be supported by a worldwide reading committee. For Australia: Ian Collier, Peter McPhee, Philip Dwyer; for the United Kingdom: Mike Broers, Sudhir Hazareesingh, Kate Astbury and Mike Rapport; for the United States and Canada: Frederick Schneid, Doyna Harsanyi, Alex Grab and Rob Alexander; for the Netherlands: Johan Joor and Beatrice de Graaf; for Germany: Ute Planert; and for Poland and Russia: Jaroslav Czubaty, Alexander Tchoudinov and Vladimir Zemstov.
Napoleon is a global icon: in English, he is the second most searched historical figure on the Internet after Jesus Christ. The history of France, and of Napoleon I and Napoleon III in particular, continues to fascinate and stimulate the world over. And the English language has long been one of its vectors of dissemination. From the moment of his rise to power and fame, Napoleon intrigued the British public, who were eager to learn first about the general, then about the Consul and finally about the Emperor. The first ever published biography of General Buonaparte anywhere in the world was written in English. In power or in exile, writing about him was always a constant favourite subject for English speakers.
Given this preponderance of the English language, it seemed important to the Fondation Napoléon to have a full say in the historical debates of our time.
Like Napoleonica® la revue, the journal is free to read online and to download AND both are now printable on demand for a small fee.
See the first issue of Napoleonica® the journal entitled Napoleon, slavery and the colonies
Editorial and graphic redesign for Napoleonica® la revue
After nearly fifteen years of existence, 42 issues published, more than 220 articles published and several tens of thousands of annual consultations, the Fondation Napoléon's French-language academic journal has undergone a complete overhaul by modifying its editorial content. From now on, one or more articles will form a main dossier, an article already published in the press or in print but not previously available digitally will be included for consultation, and a special place will be given to young researchers. This new layout is intended to give la revue greater visibility. Its format is also changing to allow for print-on-demand. Starting with this issue, a full paper version, like a traditional journal, with a summary, will be available to order (for a small fee). It seemed important to add this possibility in order to facilitate the work of researchers, even though Napoleonica® la revue remains first and foremost an online journal.
It will continue to be free of charge. The Fondation Napoléon considers it essential to be able to offer to as many people as possible in-depth, previously unpublished articles which, on sometimes complex subjects, provide a new and detailed perspective. By doing so, our institution wishes to encourage and facilitate current and future studies on subjects relating to the two Empires or more broadly to the 19th century, the century of the Bonapartes.
This change also reflects the new goals that the Foundation has set for itself. With our new motto, "le sens de l'histoire ensemble" (roughly translated as: "The meaning/direction of history hand in hand"), we intend to develop certain themes relating to meritocracy, reconciliation, modernity, art history or military anthropology, to name but a few. What is the aim? Our aim is not to glorify but to explain how the actions of the two Napoleons changed their era and to a large extent shaped ours. There is no question of positive history here, but we do wish to respond in our own way to those who condemn without knowing, largely inspired by trends originating elsewhere.
Only a rigorous and scholarly approach can provide the world of ideas with a certain distance and contextualisation (something it often lacks). The Fondation Napoléon will therefore continue to pursue the scholarly approach it has always advocated by encouraging research and researchers. We will be assisted in this by several specialists who form our scientific and editorial committee: Éric Anceau, Arthur Chevallier, Patrice Gueniffey, Peter Hicks, François Houdecek, Chantal Prévot and Charles-Éloi Vial. They will be fully involved in this new formula, for example by being responsible for sections or by becoming editors-in-chief of a particular issue.
7 October 2022