Co-edition Perrin / Fondation Napoléon > publication of the St-Helena notebooks of Grand-Maréchal Bertrand, the last 500 days (1820-1821)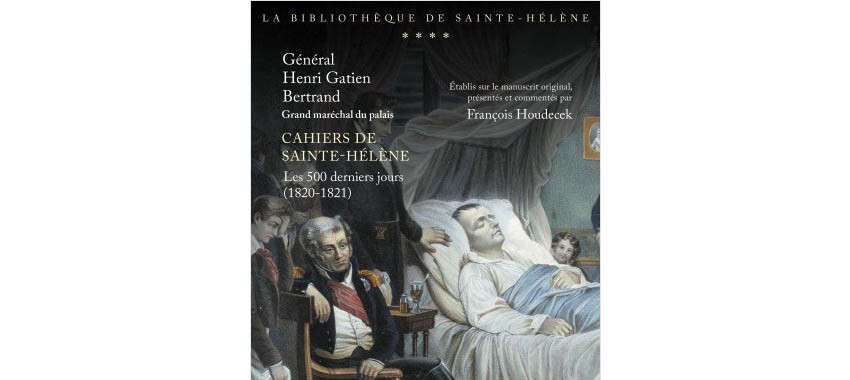 Les cahiers du grand maréchal Bertrand années 1820-1821, transcrits et annotés par François Houdecek © Perrin, 2021
This is a crucial document in the reference edition that was lacking. These Notebooks based on the original manuscript, are presented and commented on by François Houdecek (in charge of special projects at the Fondation Napoléon). This work was published in the collection La Bibliothèque de Sainte-Hélène, directed by Thierry Lentz, director of the Fondation Napoléon.
Presentation > Cahiers de Sainte-Hélène, les 500 derniers jours (1820-1821) by Général Henri-Gatien Bertrand, Grand-Maréchal du Palais
Henri-Gatien Bertrand, who was present on St Helena from the beginning to the end of Napoleon's captivity on St Helena, left a major testimony noting day by day the words of his master, the tensions with Hudson Lowe and the tumultuous life of the small French community.
This edition publishes the last two years of the Cahiers, including, for the first time, the year 1820, which had never been published and about which there is no other large-scale testimony, despite the fact that this period is pivotal. As a scribe of morose daily life, the Grand Marshal noted down the gradual transformation, day by day, hour by hour, as Napoleon metamorphosed first into a sick man, then into a dying man. Like a clerk, Bertrand recorded in his diary the slow agony of his Emperor and master, whom he served with a loyalty that inspires admiration, knowing as we do how difficult Napoleon became towards the end.  On 5 May 1821 at 5.49 pm, he was the first to kiss the dead hand of the man who had ruled his life for 20 years. Linked in exile, the two men were linked also in death and for eternity since Bertrand would join Napoleon at Les Invalides in 1847.
► It is possible to order this book online from our "2021 Année Napoléon" partner the Fontaine Haussmann bookshop.
► Other titles in the collection La Bibliothèque de Sainte-Hélène :
• The original manuscript of the Mémorial de Sainte-Hélène de Las Cases (2017)
• The unabridged St-Helena Journal of Général Gourgaud (2019)
March 2021