Target reached (and surpassed) for the international appeal for the restoration of the Tomb of Napoleon and the Napoleonic monuments of the Invalides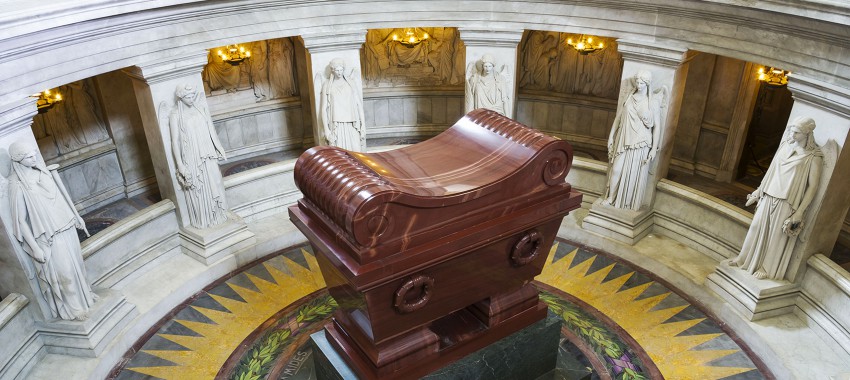 The tomb of Napoleon I in the crypt of the Dome Church at the Hôtel des Invalides, tomb built 1842-1853 by Louis Tullius Joachim Visconti (1791-1853)© Musée de l'Armée-RMN Grand Palais, Emilie Cambier
In view of the bicentenary of the death of Napoleon I, on 5 May 2021, the Musée de l'Armée and the Fondation Napoléon joined forces to launch an international appeal to restore the places at the Invalides dedicated not only to the memory of the Emperor Napoleon but also to that of his brothers Joseph and Jerome, the former King of Naples and then of Spain, and the latter King of Westphalia and later governor of Les Invalides.
2,310 donors generously answered the call and in difficult circumstances helped raise €836,960 (over and above the target of €800,000).
This is a historic monument that receives more than 1.2 million visitors a year, and the wear and tear caused by this, not to mention the fact that the places in question had not been restored for more than a century, made this operation urgently necessary.
The appeal was launched on 5 May 2019, and now, almost two years after the event, the Musée de l'Armée and the Fondation Napoléon, co-organiser and patron, are pleased to announce that the appeal target was reached (and surpassed) on 31 January 2021, with a grand total of €836,960. This success was made possible thanks to the support of nearly 2,310 donors from France and around the world, individuals and companies, including the Fondation Roc-Eclerc, the CIC, the Souvenir Napoléonien, the Académie des Beaux-Arts and Veolia. The Musée de l'Armée and the Fondation Napoléon warmly thank donors for their commitment and support.
► Read the full Press Release.
► presentation and balance sheet page of the appeal in French.
Publication 3 February 2021.