Conference >Napoleon III and the Economy (Paris, postponed to 2022)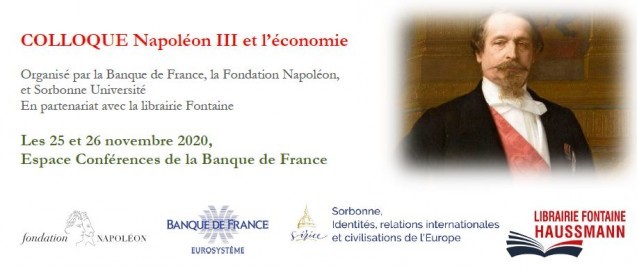 This 2-day conference on the theme of "Napoleon III and the economy", jointly organised by the Banque de France, the Fondation Napoléon and the Sorbonne, in partnership with the Fontaine Haussmann bookshop, will explore Napoleon III's economic ideas and his relations with the economic world.
It will take place on dates still to be announced in 2022 in the conference hall of the Banque de France, Paris.
The talks will be organised around the following themes:
The economic thinking of the reign
From theory to practice: budgets and credits
The men of the economy
Infrastructure, technology and major works
Internal Trade
Foreign trade
Economic prosperity, social progress and their showcases
The limits
with François VILLEROY de GALHAU, gouvernor the Banque de France; Victor-André MASSENA, prince d'Essling, President of Fondation Napoléon; Pierre BRANDA; Eric ANCEAU; Serge SCHWEITZER; Dominique BARJOT; Thierry LENTZ; François de COUSTIN; Hubert BONIN; Thierry CLAEYS; Matthieu de OLIVEIRA; Nicolas STOSKOPF; Arnaud MANAS; Agnès d'ANGIO-BARROS; Frédéric BARBIER; Jean-François BELHOSTE; Clémence BECQUET; Laurent THEIS; Georges RIBEILL; Marie-Françoise BERNERON-COUVENHES; Bruno MARNOT; Michel HAU; BOURILLON; Michel CARMONA; Michel CADOT ; Juliette GLIKMANN ; Chantal PREVOT; Arnaud TEYSSIER; David TODD ; Olivier BAUSTIAN ; Jean-François KLEIN; Caroline PIQUET; Nicolas WALEWSKI; Nadine VIVIER; Thierry RENAUX; Édouard VASSEUR; Vincent HAEGELE; Xavier MAUDUIT; Agnès SANDRAS; Jean-Marc DANIEL; Frantz LAURENT.
updated 13 July 2020