COVID-19 > Cercle d'études talks program suspended except the 23 June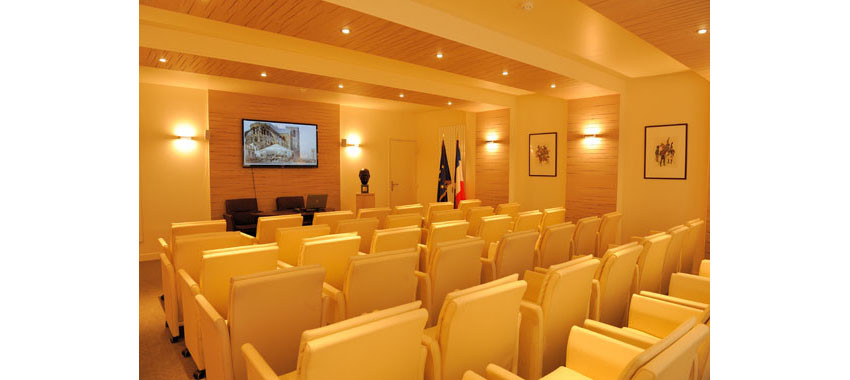 The Salle Gourgaud: conferences, talks and film previews © Fondation Napoléon - Olivier Roques Rogery
Due to the current health crisis,  our program of talks scheduled for April, May and June 2020 have been cancelled, with one exception.
The talk (in French) by Adrián Almoguera, "The Art of construction during the First Empire: Artistic ideas and political ideals", scheduled for 23 June at 6pm, is being maintained for the time being. Registrations will take place from 17 June 2020 (please respect this date!), by email to ce@napoleon.org.
For confirmation of this talk, please consult the Fondation's News page, our Facebook page, our Twitter account or our Newsletter.
Don't put your health, or that of our fellow citizens, at risk: take into account the government's recommendations (link in English).
Talk presentation:
After the upheavals of the revolutionary period, the First Empire sought to make the art of building a political and ideological instrument of utmost importance. In this context, Napoleon's reign was a period of profound changes in the way of thinking and developing architecture and urban planning in Europe. This talk will focus on the administrative and institutional changes linked to the stylistic transformations and political discourses that tend to make architecture a key element in the process of "new romanisation" advocated by the supranational system of the Napoleonic Empire.
Adrián Almoguera, a former Fondation Napoléon grant winner, holds a PhD in Art History from the Sorbonne and is currently studying at the French School of Rome, where he is working on the political use of architecture, archaeology and urban planning between Rome and Naples between the revolutionary period and the papal restoration. More information on this talk (in French)
publication date 7 April 2020