Partnership > Presentation of the redesign of the National Navy Museum in Paris 2016-2022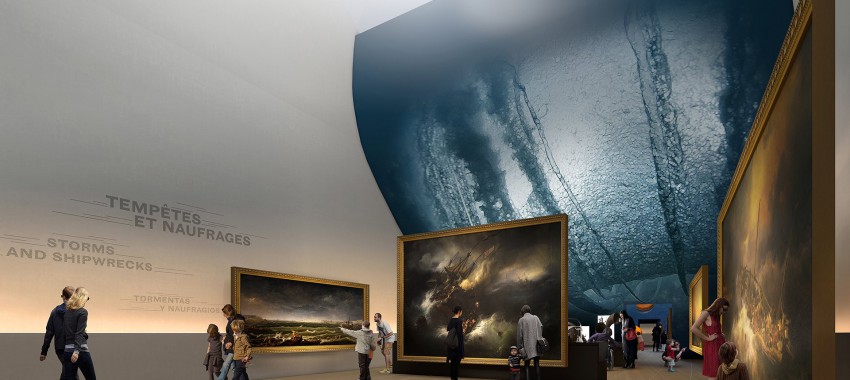 Scénographie du futur musée national de la Marine de Paris
(visuel 2019) © Agence Casson Mann/LMNB
On Thursday 26 September, one of our partner institutions, the Musée National de la Marine [the French national Navy museum, which has sites in Paris, Brest, Port-Louis, Rochefort and Toulon] presented the final project for the new design of the Paris Museum, under the chairmanship of the Secretary of State to the French Minister of the Armed Forces, Geneviève Darrieussecq who officially launched the building work.
The aim of the "new" Paris museum – the 2nd-oldest naval museum in Europe [the oldest is in St Petersburg] –  is to enhance the appreciation of the national collections, to increase and develop its public outreach, and also, through numerous specific mediations, to raise public awareness of the challenges presented for the ocean today and in the future.
After an introduction by the museum's Chairman of the Board, Olivier Poivre d'Arvor, the museum's Director Vincent Campredon together with representatives of the Paris architect group h2o and the British agency Casson Mann (specialised in interpretative design) presented the final project for the future museum.
The new logo of the museum, created by the Carré Noir agency uses an innovative concept, mirroring the actual ocean's movement, integrating real-time data provided by the SHOM (the french Navy's hydrographic and oceanographic service).
The Musée de la Marine in figures: more than 800 artworks and 35,000 objects, 8,000 m2 including 2,500 m2 of semi-permanent exhibition space, a budget of 65.3 million euros.
Reopening planned for spring 2022: follow the project and the metamorphoses (videos)
photo © Casson Mann/LMNB Agency
26 September 2019