Patronage grants awarded in 2018 by the Fondation Napoléon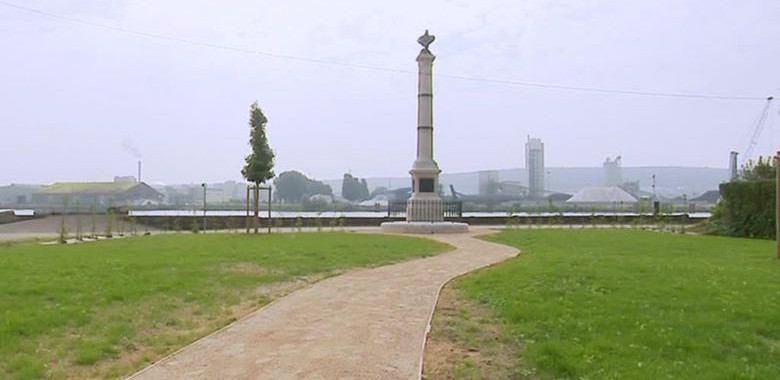 The renovated Napoleon column at Val de La Haye (June 2018) © France 3 Normandie / Still from the video by JRI Olivier Flavien
In 2018, the Board of Trustees of the Fondation Napoléon granted financial help to the following projects.
Help with the publication of Napoléon dans l'Adriatique. Dictionnaire biographique des provinces illyriennes (Éditions SPM).
Participation in the event "Renovation of the Napoleon Column in Val de la Haye" organized by the Normandy delegation of the Souvenir napoléonien.
Participation in the public subscription of aid for the restoration of the horseshoe-shaped staircase at the Château de Fontainebleau.
Grant for the association "La Route Impériale – South Africa" for events related to the 21st anniversary of the creation of this historic route.
Financing of the restoration of the sunken pathways of Longwood House, part of the French Domains of St Helena.
Help for the publication of volumes 3 and 4 of the Memoirs of François-Nicolas Mollien published by the IGPDE (French Ministry of Finance).
Assistance with the publication of the (forthcoming) book La Médaille militaire. Histoire et dictionnaire biographiques des généraux médaillés et des personnalités étrangères [The Military Medal. History and biographical dictionary of the medal-winning generals and foreign personalities] published by SPM.
Assistance with the publication of the catalogue for the exhibition (starting 21 March 2019) "Le bivouac de l'Empereur" [The Emperor's military camp], published by the Wellington Museum at Waterloo.
To learn more about the Fondation Napoléon's patronage policy and request support.
For more information on the Board of Trustees of the Fondation Napoléon.
10 January 2018