History Prize 2015 : the candidates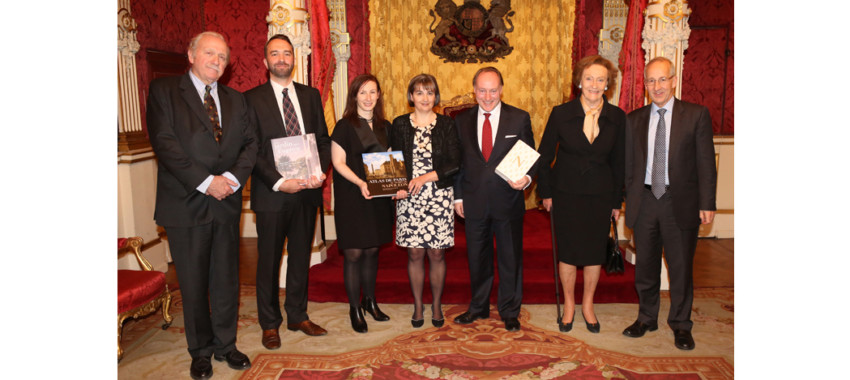 The 2014 prize winners alongside Her Imperial Highness the Princess Napoléon and M. Masséna, Prince d'Essling, President of the Fondation Napoléon and Sir Peter Ricketts, British Ambassador to France. © Fondation Napoléon
On the 9 November, the Jury of the Fondation Napoléon Prize will choose the 2015 prize-winners from the following books:
Consulate – First Empire
– Caroline Bonaparte. Sœur d'Empereur et reine de Naples, by Florence de Baudus, Perrin
– Lettres d'un Roi. Correspondance du Maréchal Murat, by Louis-Sampion Bouglione, Les éditions du Cirque
– La Grande Armée de papier. Caricatures napoléoniennes, by Philippe de Carbonnières, Presses Universitaires de Rouen et du Havre
– Le nègre de Napoléon. Joseph Serrant, seul général noir de l'Empire, by Raymond Chabaud, HC éditions
– Charles-François Lebrun (1739-1824). Troisième consul, prince architrésorier de l'Empire, Duc de Plaisance, by Patrice de Chantemerle de Villette, éd. chez l'auteur
– Waterloo, 18 juin 1815. Grouchy est-il responsable de la défaite ? by Pascal Cyr, Lemme Edit
– Berthier. L'ombre de Napoléon, by Franck Favier, Perrin
– Seul contre tous. Cent jours avec Napoléon, by Laurent Joffrin, Tallandier
– Grouchy. De Versailles à Waterloo, by Christian Legros, Editions de la Bisquine
– L'homme qui voulait tout. Napoléon, le faste et la propagande, by Xavier Mauduit, Autrement
– Napoléon Bonaparte. La Nation incarnée, by Natalie Petiteau, Armand Colin
Second Empire
– Abbadia, le monument idéal d'Antoine Abbadie, by Viviane Delpech, Presses universitaires de Rennes
– La France pouvait-elle gagner en 1870 ? by Antoine Reverchon, Economica
– Tito Franceschini Pietri. Les dernières braises de l'Empire, by Elisabeth and Sampiero Sanguinetti, Albiana Éd.
Third Prize
– Napoléon. L'épopée en 1000 films, by Hervé Dumont, Ides et calendes
– Berezina, by Sylvain Tesson, Éditions Guérin
The prizes as well as the Study Grants will be presented on 9 December 2015 at a ceremony which will take place at the Hôtel de Beauharnais, the German Embassy in Paris.